The kids have almost finished their first week of school and a little fun is in order. So pack your socks and get moving! Check out these 8 awesome indoor playgrounds that are perfect for all ages:
In Play Indoor Playground is located at 551 Bryne Dr. in Barrie's south end. Older kids and parents can crawl through tunnels and play arcade games. It has a ball pit, a huge indoor playground and Minecraft for the older kids who need their fix. Mondays through Thursdays, it's open 11 a.m. to 8 p.m., 9 a.m. to 9 p.m. Fridays and Saturdays and Sundays 10 a.m. to 8 p.m. It extends its hours on school holidays. Find out more at http://inplayinc.com/home-barrie.html.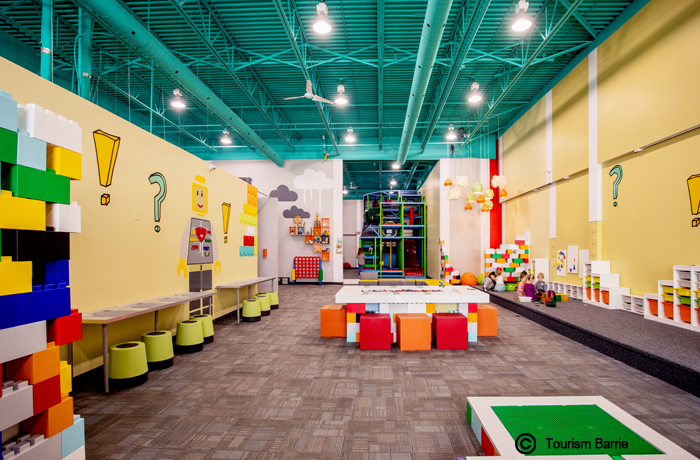 Located at 11 King St. in Barrie's south end, Kaleidoscoppe offers after-school and drop-in programs for younger and older kids, as well as weekly classes and camps. It also offers drop-off play care if you need to get some shopping done or want to catch a movie. It offers a variety of play areas, with a Lego area, a fine motor station along with the climbing structures kids enjoy. It's open from 3:30 p.m. to 7 p.m. Mondays to Wednesdays, 10 a.m. to 7 p.m. the rest of the week. During March break and on PA days, it's open from 9 a.m. to 7 p.m. Explore at https://kaleidoscoppe.com/.

Located in Barrie's southeast at 649 Bayview Dr., Kings and Castles offers royal family fun. Its play Anyone from 2 to 92 can climb, crawl, swing and slide. There's also a laser maze, escape rom and climbing wall. If this sounds like it could be a bit much for the toddler set, there's separate areas for babies and toddlers, as well as plasma cars, dress-up and craft areas. It's closed Mondays and Tuesdays; it's open from 10 a.m. to 7 p.m. Wednesdays through Sunday. Find out more at https://www.kingsandcastles.ca/about.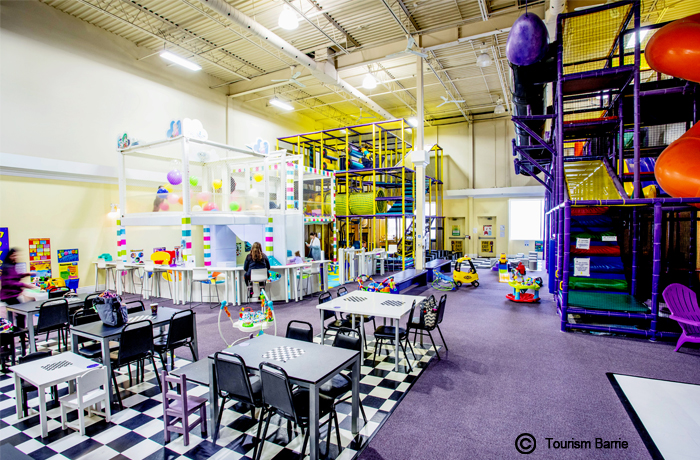 Smart Moves Play Place, located at 565 Bryne Dr., is a great place for the 6-and-under crowd. And it also features playing areas for kids up to age 12. Featuring play structures, Smart Moves is a STEM-based play place – that's right, science, technology, engineering and math! It offers science camps and a special nights for families with kids with Autism and Down Syndrome. It's open 9 a.m. to 7 p.m. weekdays, noon to 7 p.m. Saturdays and 10 a.m. to 7 p.m. Sundays. Visit the website at http://www.smartmovesplayplace.com/.
Treetops Playground, located in the Bayfield Mall offers a safe place for the younger set, those just starting to walk through their preschool years. As its name suggest, it features jungle gyms, soft play structures, slides and creative play areas. Topping it off, there's a kid's hair salon! It's opens at 9:30 a.m. weekdays and stays open until 5 p.m. Mondays to Thursdays and until 6 p.m. on Fridays. Sleep in a little on the weekends, when it opens at 10 a.m. and stays open until 6 p.m. Saturdays and 5 p.m. Sundays. Explore Treetops' website at http://treetopsplayground.com/.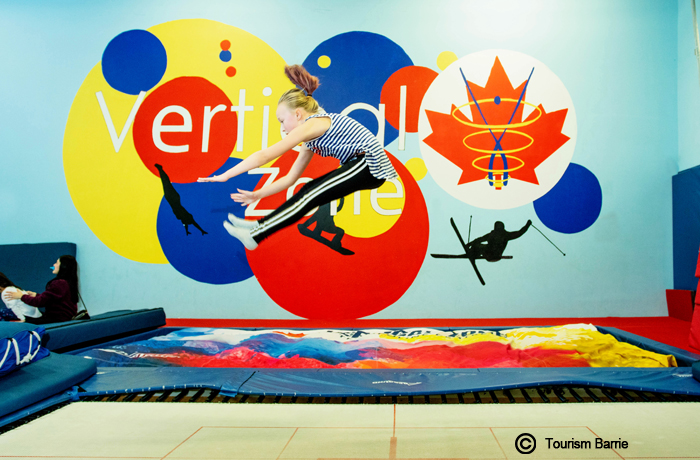 Reach new heights at Vertical Zone, Barrie's trampoline gym- and get a great cardio workout while you're at it. There are nine competition-grade trampolines and coaches to keep you safe, while you burn off energy. Located at 361 King St. in the city's southwest, the Vertical Zone also features an air bag side and a foam pit side. It's a good idea to book ahead by calling 705-794-JUMP. Find out more at http://verticalzonetrampolinecentre.ca/.
And if you or your older kid or teen are looking for more challenge, there are a couple of other options. Be sure to fill out your waiver before you go.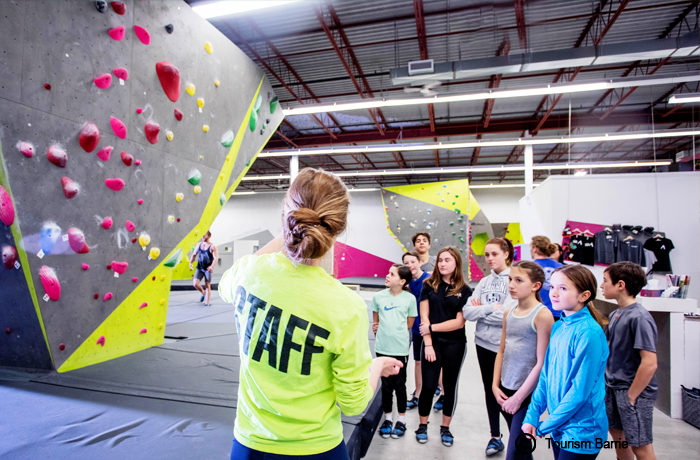 Alt Rock, located on Dunlop Street West of Highway 400, offers rock climbing for kids and adults. You can climb, move and play, no matter what your climbing ability or level. As well as climbing walls, there's a fitness section that includes a monkey rig, hang boards and free weights. Climbing shoes are required and are available for rent. Alt Rock is open noon to 10 p.m. Monday and Tuesdays, 10 a.m. to 10:30 p.m. Wednesdays and Thursdays, 10:30 a.m. to 9 p.m. Fridays, 9 a.m. to 9 p.m. Saturdays and 10 a.m. to 8 p.m. Sundays. Find out more at https://www.altrock.co/.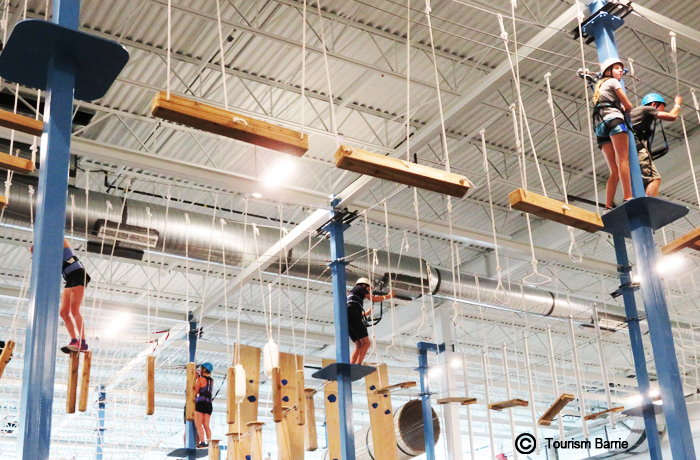 The new kid on the block, Jack's Urban Jungle, is aimed at kids ages 8 and up. Located on Mapleview Drive West, Jack's has ziplining, zorbing, trampolines and an aerial course. It is creating an area for kids ages 4 to 7 that will feature a mini-warrior course; watch for news online at https://www.jacksurbanjungle.com/. During March break, there are full-day and half-day packages and hours are extended. Clean indoor running shoes are required. Usual hours are Wednesdays through Fridays 4 p.m. to 9 p.m. and noon to 9 p.m. Saturdays and noon to 6 p.m. Sundays.