If you're trying to find a location for a fun boys getaway or the ultimate bachelor party weekend, look no further, Barrie is your place to be!

With lots of great options for food, activities and sights to choose from, the City of Barrie has everything you might want for an adrenaline-filled and adventurous weekend!

To help you with your planning, we've put together a weekend itinerary for all of our favourite boy's trip-worthy activities and experiences to have in our great city! Together you and the boys can enjoy everything from craft beers, golf, great food, and more.

Let's get into it!
---
Friday
---
After your week at work, meet up with the boys and start off your weekend in Downtown Barrie for a bit of nightlife in the core of the city!
Flying Monkey's Craft Brewery & Tap Room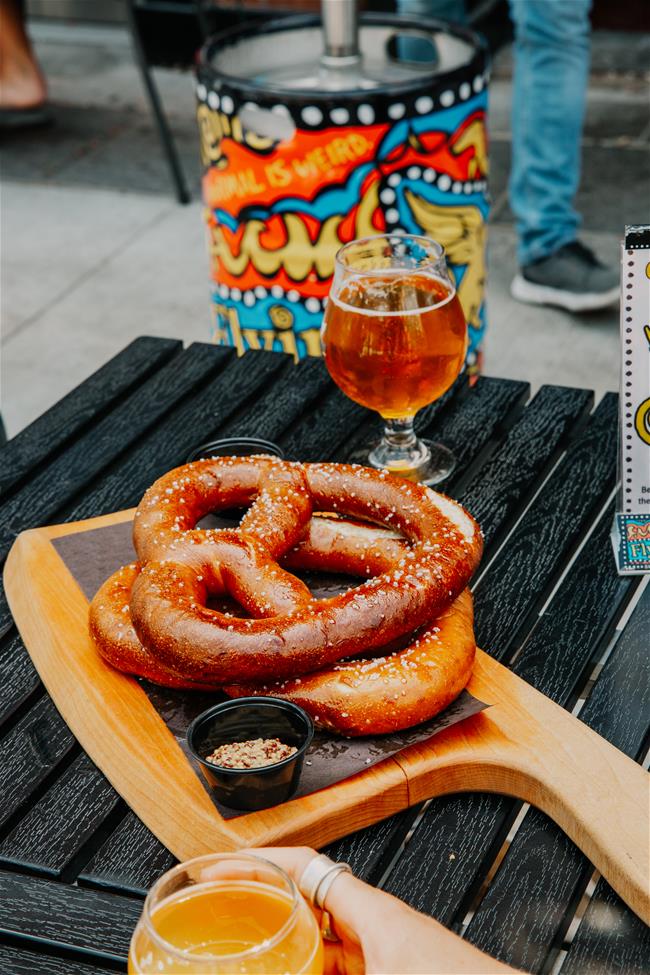 Image taken by Nick Laferriere

Right in the heart of Downtown Barrie on Dunlop Street, you'll find the local Flying Monkeys Craft Brewery.

Experience the colourful excitement of their taproom and indulge in a glass or two of their award-winning craft beers. Choose from any of their 16 unique taps and get a bite to eat. Can't pick just one beer to try? Try 4! Build your own flight of brews and sample a range of what Flying Monkeys has to offer.

While Flying Monkeys might have some arcade games to try out in their attic lounge, we recommend that your next stop of the night be down the street at the Last Level Lounge.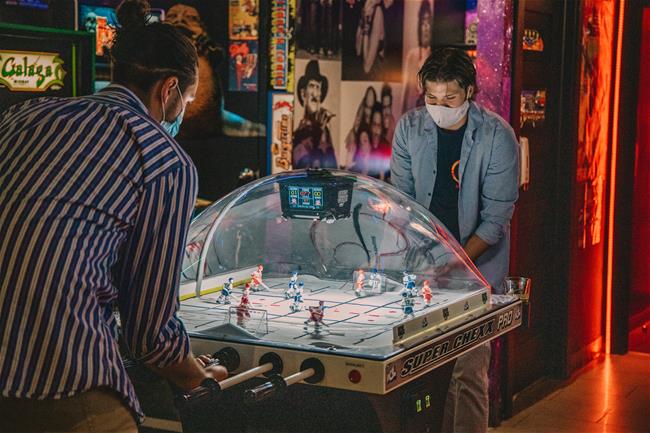 Image taken by Nick Laferriere
For a wide selection of retro arcade games and themed drinks, head to Barrie's first retro arcade bar, where you can get unlimited plays for $5. Play all your favourite 80s arcade or pinball games in Downtown Barrie! The Last Level Lounge have everything from Pac-Man, NBA Jams, Donkey Kong, Chexx Bubble Hockey, Super Nintendo Classics and much more.

After a fun first night, rest up for the next day of your weekend!
---
Saturday
---
Dunlop Street Diner



Image courtesy of Dunlop Street Diner (Facebook)

Saturday morning calls for a hearty breakfast or Brunch!

Located at 20 Dunlop Street East in the heart of Barrie, the Dunlop Street Diner has transformed the 150-year-old building into a modern diner with a farm fresh attitude.

Open 7 days a week, the Dunlop Street Diner offers you a delicious brunch experience prepared by an award-winning chef that is truly to die for. Every dish comes out of the kitchen and to your table looking like a million bucks. With a variety of fantastic options to choose from on their menu including their selection of one of a kind eggs benedict, skillets, omelette and more!

Pictured above is the Coupe de Ville sandwich featuring crispy fried chicken, bacon, asiago and lettuce with both our house-made Caesar vinaigrette and DSD garlic sauce.
You will definitely need both hands for this one!

Scenic Caves Nature Adventures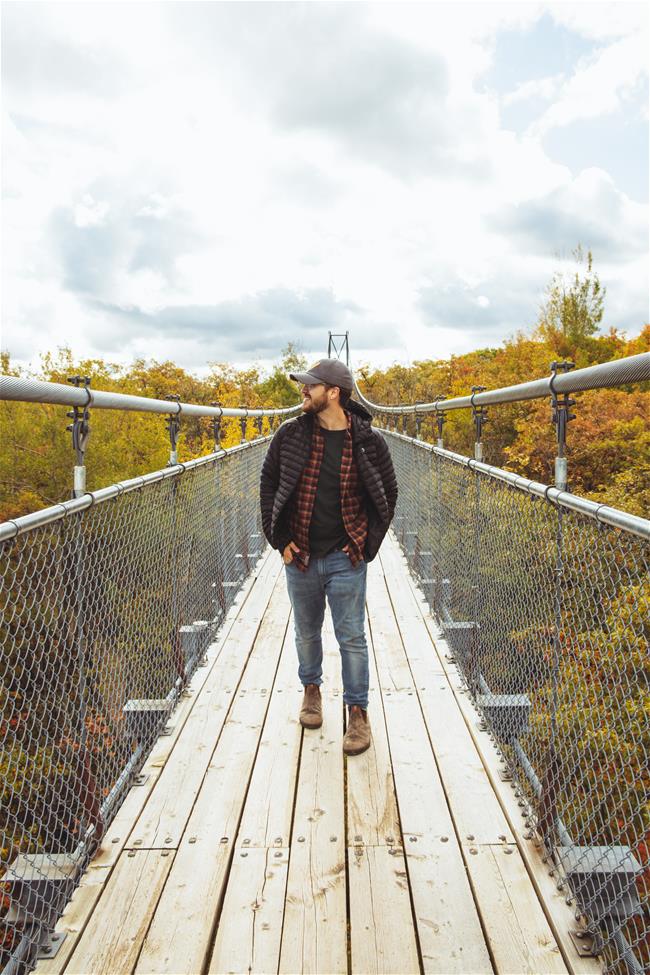 Image taken by Nick Laferriere
After a delicious breakfast, head out to start exploring some local nature at the Scenic Caves! There, you'll venture through an area steeped rich in history and heritage, dating back 450 million years.

Enjoy a self-guided tour of the caves, caverns and lookouts on the highest point of the Niagara Escarpment. Southern Ontario's longest Suspension Footbridge offers light adventure and the most spectacular views of Georgian Bay and the surrounding countryside.

Feeling extra adventurous? Soar on the Thunderbird Twin Zip Line when you reserve an Eco-Adventure tour, also including a treetop canopy walk.
North Swing Golf Lounge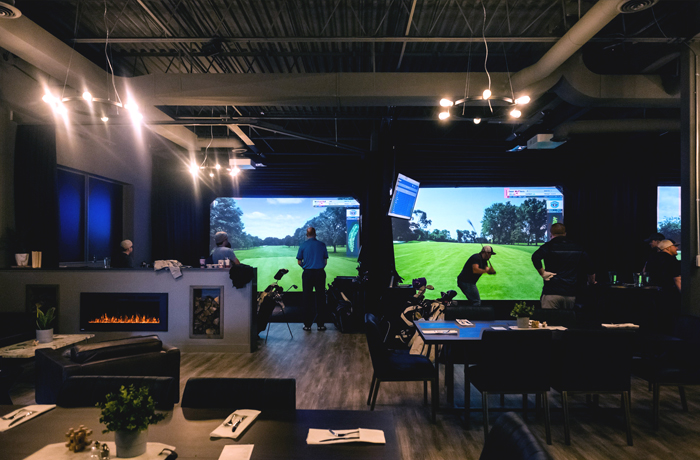 Image courtesy of North Swing Golf Lounge

In the occasion that the weather is not ideal for some outdoor golf, check out North Swing Golf Lounge for Barrie's indoor all-season golf experience.

Their 153″ widescreen golf simulators feature 35 well-known PGA golf courses from around the globe with unparalleled realism and accuracy. Through industry-leading technology by HD Golf™, they provide a great indoor golf experience for golfers and a warm, welcoming environment for players of all skill levels.

End off the night trying another one of Barrie's fantastic craft breweries. For tonight check out Barnstormers or Redline!

Barnstormer Brewing + Distilling Co.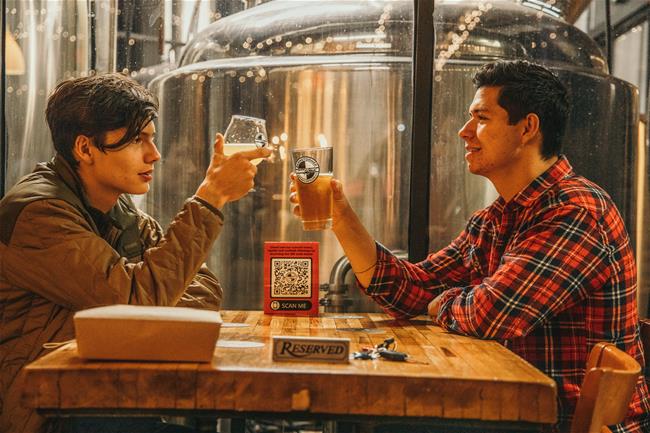 Image taken by Nick Laferriere

Barnstormer Brewing + Distilling Co. is the best-rated brewery and restaurant in Barrie. With their great selection of beers and fantastic food, they are a perfect place to stop for an evening out! Make sure to stop in for free brewery tours, a great meal, samples, special events, live music and of course, a little beer and craft spirits.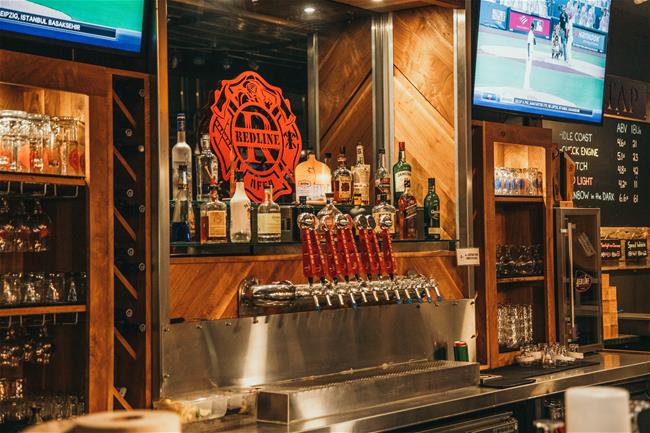 Image taken by Nick Laferriere

Redline Brewhouse is open as a full-service restaurant, brewery and a full retail and beer store (Beer's Gear shop).
This local Barrie favourite brewery has an excellent selection of beers to choose from as well as amazing foods on their menu, incredible prices and a great location. Redline Brewery is an exceptional place to go for a beer and meal with some friends.
---
Sunday
---
Finish off your boy's weekend with a bang before heading home ahead of another work week.

Skipping breakfast and going straight to lunch, head to B'Spoke Kitchen + Market.
B'Spoke Kitchen & Market




Images courtesy of B'Spoke Kitchen + Market

B'Spoke Kitchen & Market offers a distinctive collection of restaurants, conveniently available in one place!

Choose from the dishes available at Pirogi +, B'spoke Bowls, Bangers Gourmet Franks (hot dogs), the B'side Bar or have a little bit of each. Combine items from different restaurants, make it your own, and enjoy it your way!
Alt. Rock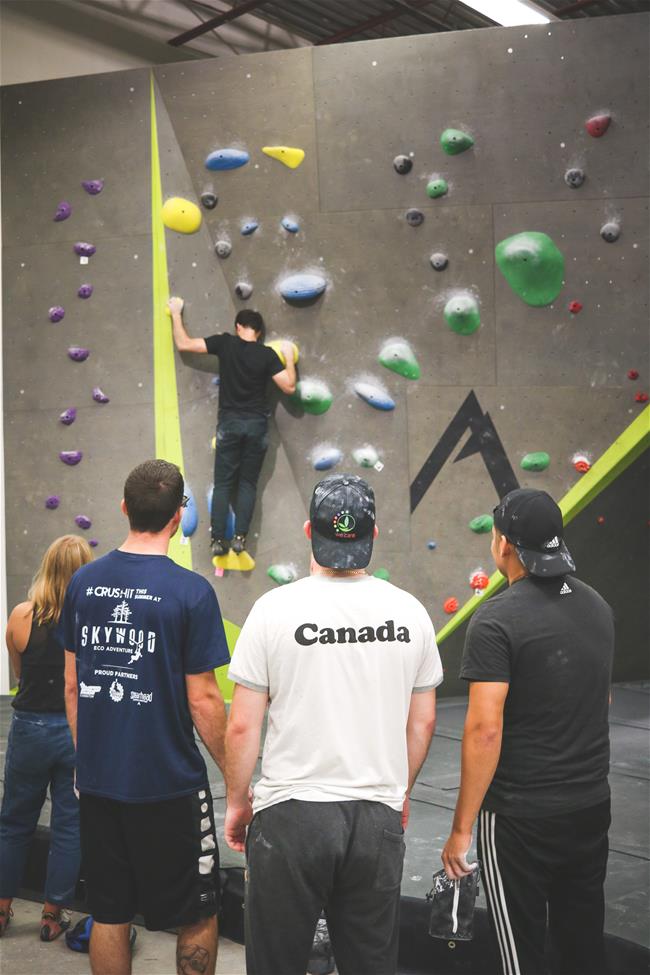 Image taken by Nick Laferriere

As a final activity make your way to Alt. Rock to end off your weekend on a high note (literally) challenging yourself to scale the bouldering walls and burn off a few of those calories you took in all weekend!

As Barrie and the surrounding area's first bouldering hub, Alt. Rock is a great location to bring friends for hours of fun! The Alt. Rock facility offers 6,000 square feet of climbing surface focused on bouldering. Whether you are a beginner or an expert, there are climbing routes for you!
Then last but not least, head back downtown for one last meal at North Country!
North Country BBQ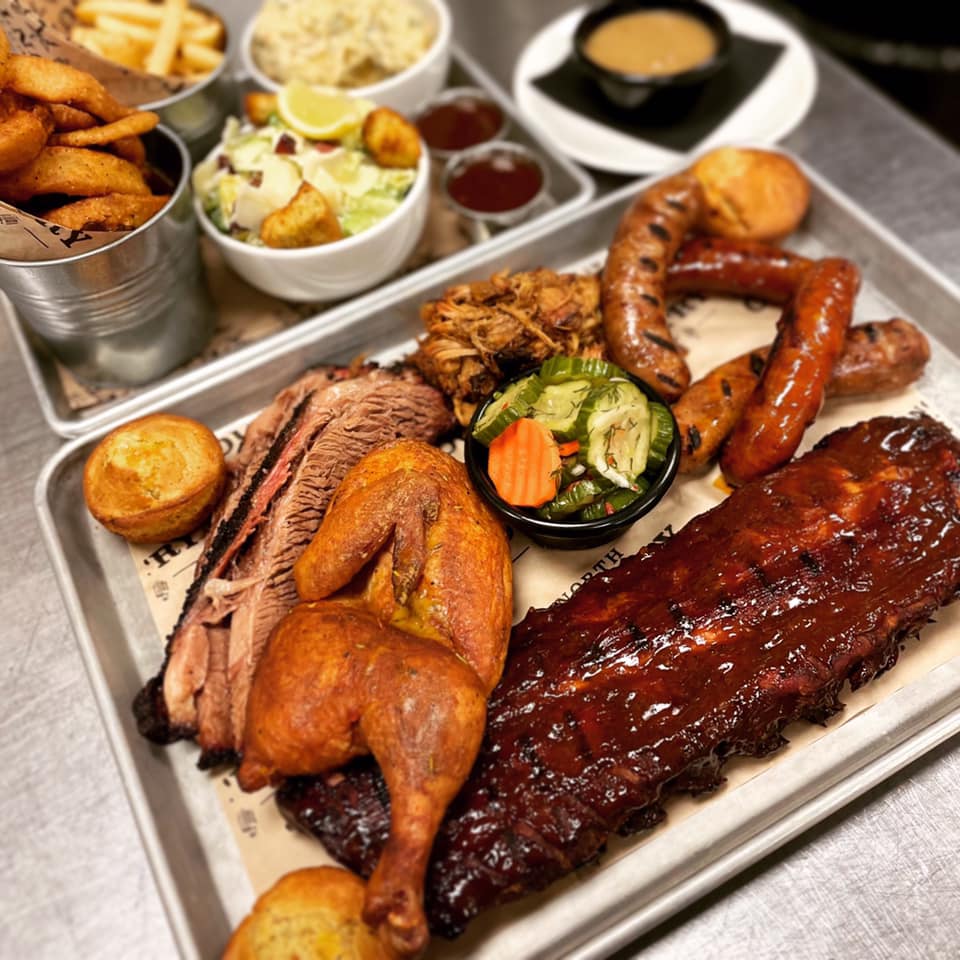 Images curtesy of North Country (Facebook)

North Country BBQ brings to you a fantastic mix of honky-tonk and smokehouse, bringing Nashville straight to the heart of Downtown Barrie.

The North BBQ Platter (pictured above) offers the ultimate tasting experience of what North Country has to offer and is ideal for a group of 4! It includes 1/2 pound of brisket, 1/2 pound of pulled pork, a full rack of fall off the bone back ribs, 4 sausages and a half chicken served with your choice of 4 sides, cornbread and house-made pickles.

If your group is one that loves BBQ, this is a meal you'll be raving about!
More great options to consider
---
Beertown Public House: This fantastic new addition to the Barrie area makes for a great spot to experience a delicious meal with expertly curated beer and beverages. As a self-proclaimed leader in the craft beer dining revolution, your group is sure to enjoy your time here!
Donaleigh's Irish Public House: Located just east of Barrie's historic Five Corners, this landmark property has undergone extensive renovation to bring you Barrie's premiere Irish Public House. Carrying on the fine Irish tradition of great food, quality ales, and genuine hospitality at Donaleigh's you'll find authentic Irish ales, lagers and stouts along with quality pub fare prepared from fresh ingredients by their amazing kitchen staff and served promptly with a smile from the friendly staff. Whether it is a stool at the bar, a table in the library, a cozy booth or a spot on one of their two awesome new patios you will find a place that is just right for you and your friends.

Wimpy's Diner:

Enjoy a casual dining experience adorned with the 50's and 60's era memorabilia. The atmosphere, along with the food, is unbelievable. Wimpy's is known for its Famous Hamburgers, morning and all day breakfast, specialty lunches, and home-style dinners.
Catch a Sports Game: Barrie is home to three major sport home teams: the Barrie Baycats (semi-pro baseball), the Barrie Colts (OHL hockey) and the 1812 FC Barrie (soccer). Over your boys weekend, catch a game and cheer on one of our local teams! Click on the team names for more information about them.
Barrie Sports Dome: The Barrie sports dome offers a great variety of activities for your group to enjoy! Reserve a time to play some flag football, reball (aka paintball), bubble soccer or arrow tag!
---
Looking for accommodations for your weekend stay?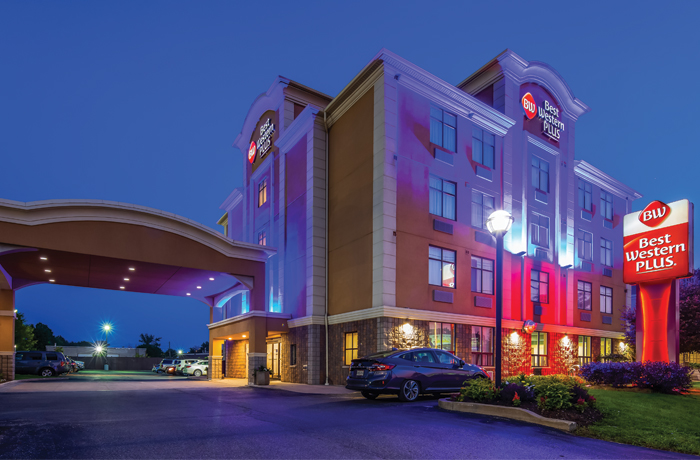 Image courtesy of the Best Western Barrie

Choose from an excellent variety of top-notch accommodations to suit your style. Barrie offers many choices in quality and comfortable accommodations, including resorts, hotels, conference centers, extended stay or executive suites, motels, bed & breakfasts, cottages & cabins, and campgrounds & RV parks.

Most of the destinations within this itinerary are located in and around the Downtown Core. For easy access the Best Western Plus, Comfort Inn & Suites, Quality Inn Barrie, and Monte Carlo Inn Barrie Suites are all great options located on Hart Drive. They're in a convenient location just a short drive away from Downtown Barrie and close by the 400 Hwy for convenient access to all other attractions!

Check out all of your options here ahead of planning your stay!
---
For more information about experiencing Barrie activities, a Tourism Barrie representative will be happy to answer your questions at 705.739.9444 or [email protected].


---