Elevate your next hiking excursion with snowshoes!

Snowshoeing makes for an excellent low-impact aerobic exercise activity. It's inexpensive, beginner-friendly, and, best of all, it's an activity that the whole family can enjoy in the great outdoors over the winter months!

Barrie and its surrounding area is home to many great locations for snowshoeing. Whether you head out on one of the beautiful trails at our local parks or explore with a local business, there is no shortage of places to explore. Keep reading to learn more about 6 locations to consider ahead of your next snowshoeing adventure!


Snow Valley Ski Resort
Snow Valley offers 17 km of easily accessible trails for all skill levels! (see map below)

Their Interpretive Trail combines the orange and green trails to guide you through two different types of forests, where you will visit eight locations, learning unique facts about the wetlands, wildlife, streams and history of Snow Valley.

Purchase your snowshoeing tickets and rentals in advance online, and while you're there, make sure also to check out Snow Valley's special snowshoeing events for guided outings. Book a nighttime guided hike with additional perks like stew, hot chocolates and more.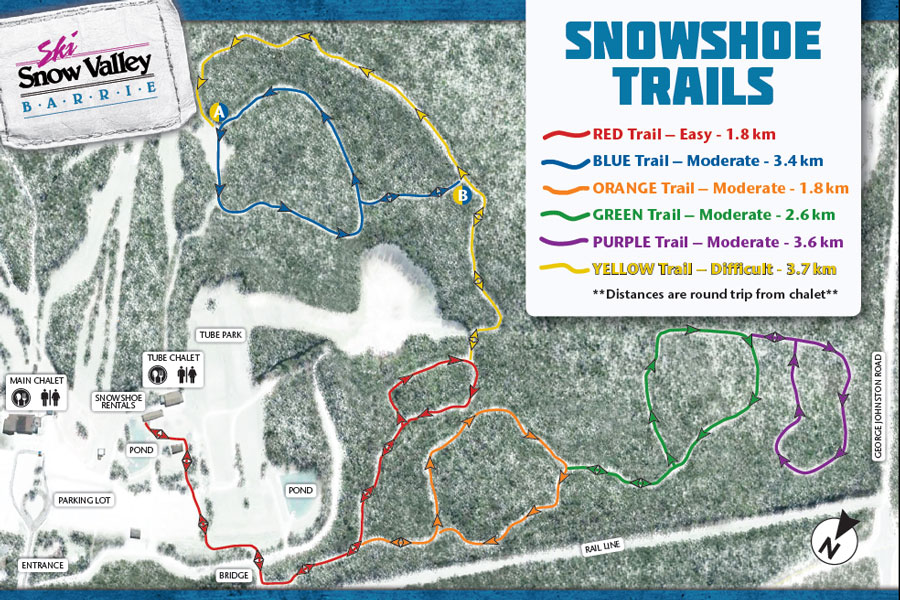 Image courtesy of Ski Snow Valley Resort.

Sunnidale Park

As one of our local favourite destinations within the city, Sunnidale Park is a prime location for snowshoeing and winter exploring! The park is located in Barrie's northwest corner and offers 48.5 acres of flat open space, wooded areas, hills, and excellent trails. Perfect for all snowshoeing levels.

To get there, exit Hwy 400 at Dunlop Street East, turn left onto Anne Street, follow Anne Street to Cundles Road and turn right. Alternatively, take Bayfield Street to Cundles Road, turn left, and follow a few minutes down the road to Sunnidale Road. Parking at the park is free.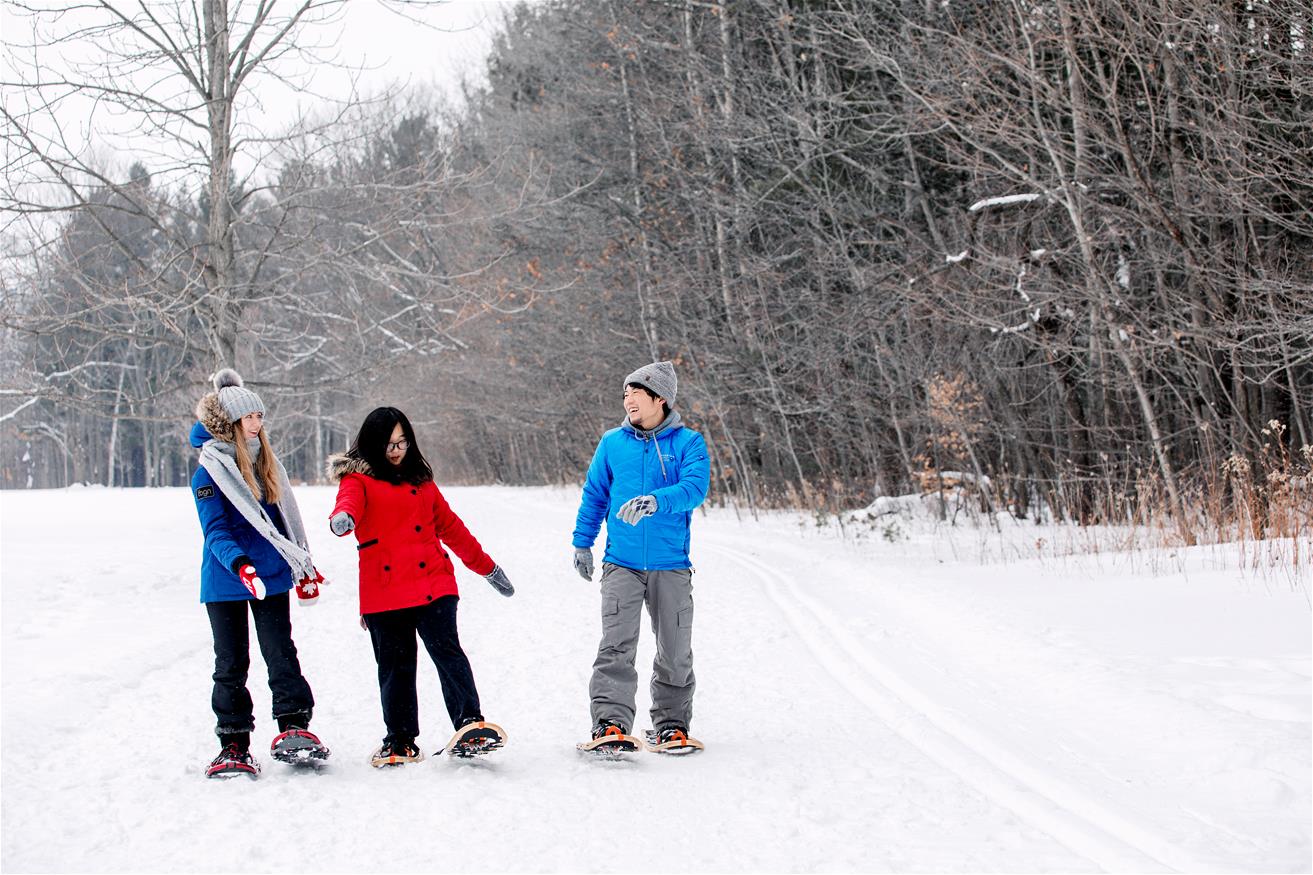 Image by Nat Caron Photography.

Scenic Caves Nature Adventure

Experience the unique winter offerings at Scenic Caves on snowshoes! Their trail network offers options for every difficulty level, including 1 km of easy trails, 6 km of moderate trails and one expert-level trail.

Be sure to take a walk across Ontario's longest suspension bridge with your snowshoes strapped to your boots and observe in awe the 10,000 square kilometre view of the Georgian Bay and beyond.

For more information about their availability and rates, head over to the Scenic Caves website and for more dedicated snowshoers, discover a variety of Season Passes, offering recurring access to their trails and other seasonal experiences.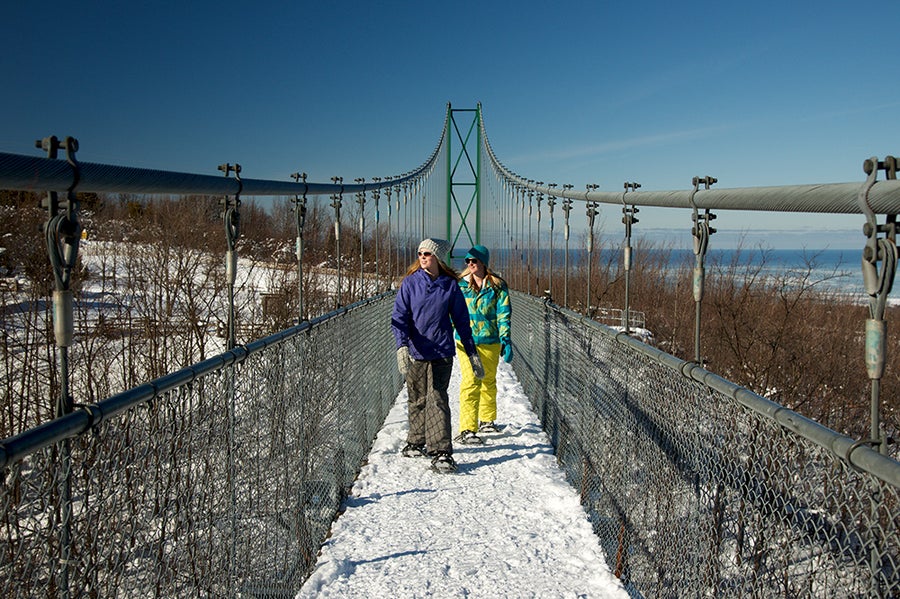 Image courtesy of Scenic Caves Nature Adventure.
Hardwood Ski and Bike

Boasting 11 km of dedicated snowshoe trails, Hardwood Ski and Bike is a dream snowshoeing location for all ability levels.

Their East loops, Lynx and Fox, run clockwise and are ideal for beginners to intermediates. The Western loops, Beaver and Lookout, however, run counter-clockwise and include more adventurous climbs, making them perfect for more advanced snowshoeing.

For trail passes and rentals, click here.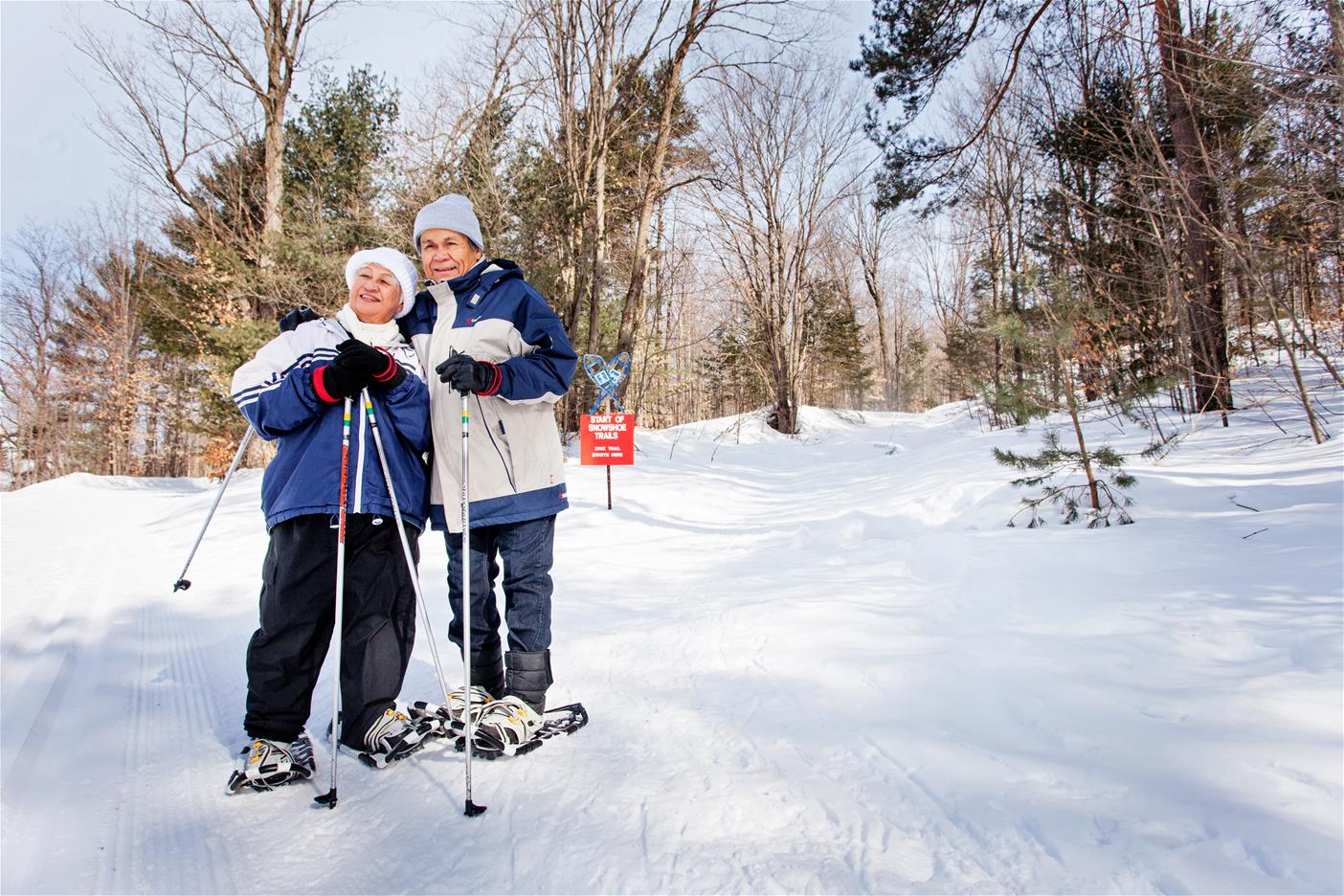 Image by Nat Caron Photography.

Wye Marsh Wildlife Centre

Explore over 25 km of trails at the Wye Marsh Wildlife Centre!

Wye Marsh is the place to escape, explore, and experience nature up close. In addition to all their regular hiking trails, the Graham McDonald Trail is available exclusively in the winter and is perfect for snowshoers.

Trail access opens at 9am and closes at 4pm daily during the winter. Consult the Wye Marsh website for updated trail conditions throughout the winter to ensure a safe and enjoyable experience! Be sure to check out their guided snowshoeing eco-tours to explore the Wye Marsh areas that are otherwise not open to the general visiting public!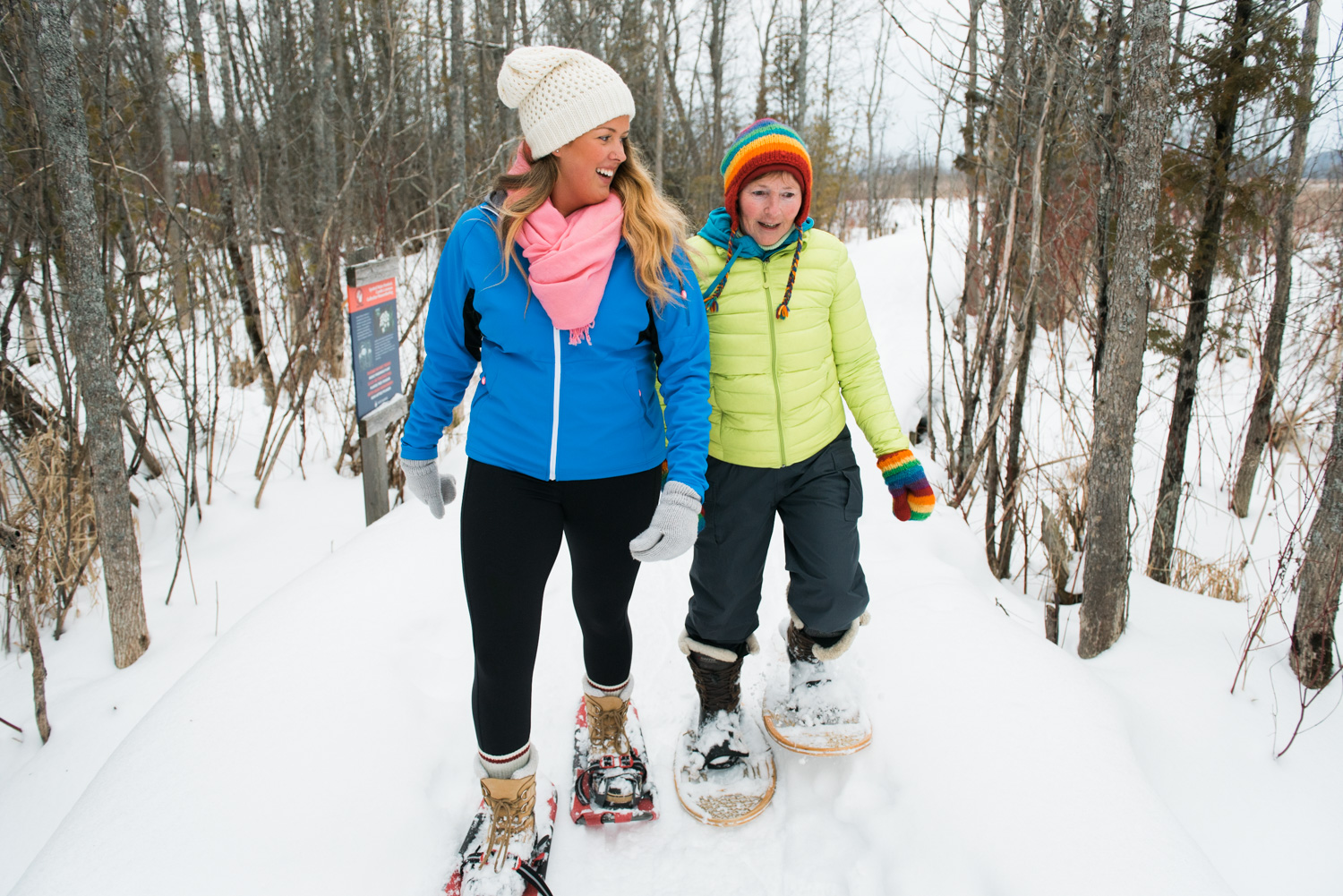 Image courtesy of Wye March Wildlife Centre Facebook.

Friday Harbour Resort

Friday Harbour offers a wide variety of fantastic winter fun for families and outdoor enthusiasts. From cross-country skiing and fat biking to snowshoeing and skating.

Head over to Friday Harbour's Outdoor Adventure Centre to pick up a pair of snowshoes and wind your way through the 7 km of Nature Preserve trails while you take in the beauty of winter.

For more information on trail passes and rentals, click here.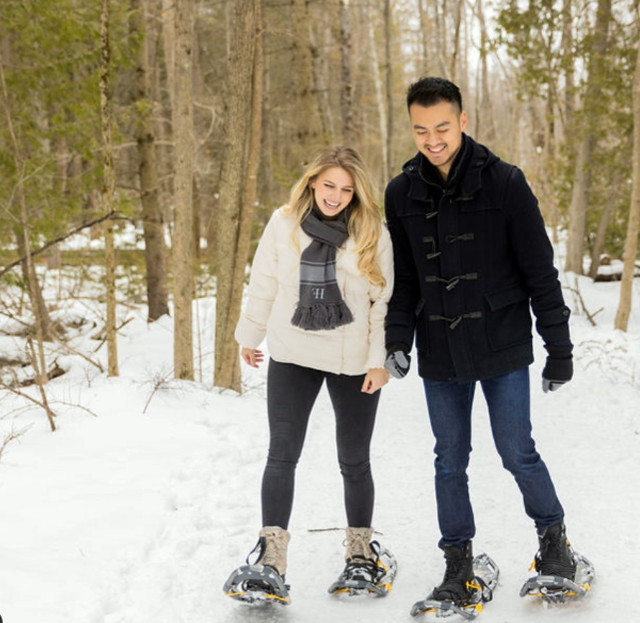 Image courtesy of Friday Harbour Instagram.

Are you trying snowshoeing for the first time?

As far as winter activities go, snowshoeing is a beginner-friendly activity that only requires a few basic techniques, and before you know it, you'll be a pro!

To purchase snowshoeing equipment of your own in Barrie and quality outdoor gear, check out local stores like Sojourn Outdoors and Cabela's. They have everything you might need for your next snowshoeing experience, including snowshoes, winter boots, poles, clothing and other accessories.

---
For more activities to enjoy over the winter months, check out our winter fun guides and start planning your next adventures!