Barrie T-Shirts
Looking for a gift or a souvenir to remember your time spent in Barrie? Visit Tourism Barrie at 205 Lakeshore Drive on Barrie's waterfront and pick up one of our newly designed t-shirts. Check out a little history on the icon landmarks featured on the back!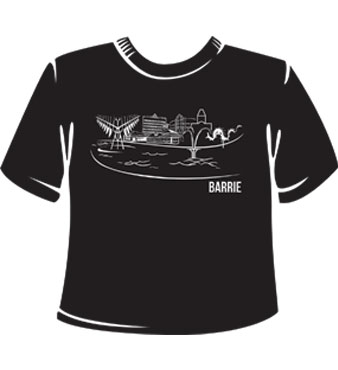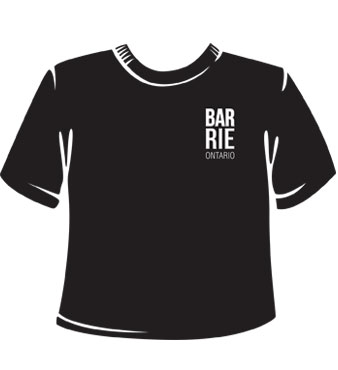 The Spirit Catcher – designed by sculptor Ron Baird for the 1986 EXPO in Vancouver. Originally installed at False Creek in Vancouver, the 20 tonne steel Spirit Catcher took over 6 months to create. The Spirit Catcher stands 21 metres high and has 16 kinetic quills. The sculpture was purchased by the Helen McCrea Peacock Foundation of Toronto and was donated to the Barrie Gallery Project (later the MacLaren Art Centre) in 1987. The Spirit Catcher became the first work of the MacLaren Art Centre's permanent collection and is still the Centre's largest piece. For more information visit The MacLaren Art Centre.
Allandale Station – The future of the community of Allandale was guaranteed when the Ontario, Simcoe and Huron Union Railway Company line arrived in 1853. Expansion of the Allandale Train station was completed in 1904 and the Grand Trunk Railway took over operations in 1905. The station provided passenger services by CN Railway and Via Rail until closing in 1980.
Barrie City Hall – City Hall as it appears today was designed by the Toronto firm of Moriyama & Teshima Architects and was completed in April of 1985. City Hall officially opened on October 12, 1985, under Mayor Ross Archer, the design merged new council chambers, a rotunda and offices with the existing Municipal Savings and Loan office tower.
Arch over Mulcaster Street – marks the location of the market building and former city hall as it appeared in 1877. Toronto architect Joseph Sheard and local contractor Alexander Graham were hired to build the original town hall and market building in the center of Mucaster Street, which was completed in 1856. It was demolished in May of 1985 after the completion of the present-day City Hall.
Rotary Fountain - The Rotary Club of Barrie presented the fountain at Centennial Park on July 1, 1967. It was designed to appear to be floating as an offshore island. Servicing the mechanics from underwater proved difficult, so it was linked to the mainland by a spit.
The Sea Serpent – created as a companion piece to Barrie's iconic Spirit Catcher, for the 1986 Expo in Vancouver by local artist Ron Baird. Following the event, The Sea Serpent was acquired by Jean Sellers and installed on her Oro-Medonte property, and then moved to Kingston by her son Alexander upon her passing. Alexander donated The Sea Serpent to The City of Barrie and the sculpture was unveiled June 28th, 2016 at Heritage Park.
Mugs, postcards and magnets can also be purchased at Tourism Barrie and the Ontario Travel Centre located at 21 Mapleview Drive East off HWY 400.