Home

>

Do

>

Born to Ride Bicycle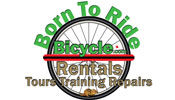 Born To Ride Bicycle
VISIT OUR WEBSITE - www.borntoridebicycle.com

No need to bring your own bike, rent one from us! Rent a bike for only a few hours or the whole day. We deliver to area hotels, resorts and B&B's. Choose from our selection of quality Giant brand hybrid road bikes, mountain bikes, BMX and pump bikes. Experience the thrill of downhill mountain biking on our Specialized Big Hits. Full crash gear available to rent. See the breathtaking scenery with your sweetie on our Tandem bikes (bicycle built for 2).

Enjoy Guided Cycling Tours along waterfronts, country roads and abandoned rail trails and mountain bike tours through the breathtaking Copeland Forest in Horseshoe Valley and forest trails in Barrie.
Explore the region on your own or choose from the many guided cycling tours we offer for both the novice and the experienced cyclist.

Cycling is fun for the whole family!

While you're there take advantage of their cycling excursions and summer camps!
Enjoy an exciting full day cycling excursions and wine/beer/spirit venues in Southern and Central Ontario.
Experience the great outdoors at B2RB's Full Day Bike and Swim Camps. Disconnect your computer and reconnect with your natural instincts! Select the ride that best suits your skills.....

We can also help you plan a unique cycling experience for your group, club, team or event.