Home

>

Do

>

Splash On Water Park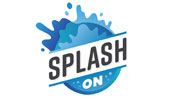 Splash On Water Park
VISIT OUR WEBSITE - www.splashon.ca
Splash ON Water Parks is an inflatable water park company taking the beaches of B.C. and Ontario by storm! Creating a unique spin on water recreation for ages 6-106!
Our water parks are giant 200+ person floating playgrounds. Each of our six locations include climbing walls, monkey bars, swings, slides, trampolines, balance beams and many more exciting and challenging obstacles. We take great pride in pushing our guests out of their comfort zones in pursuit of creating memorable highlight of the summer experiences of fun and laughter!
Located on Centennial Beach in the heart of downtown Barrie is our BIGGEST water park location of all six! Explore the terrain and obstacles for non-stop summer fun for the whole family! Experience water recreation in a thrilling and active way this summer! Bounce, laugh, SPLASH and join the fun!
Operating July and August each year. 7 days a week all summer (weather permitting). Lifejackets provided. Reservations required, book online! Ages 6+