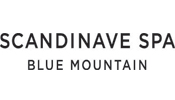 Scandinave Spa Blue Mountain
152 Grey Road 21
Blue Mountains, Ontario L9Y 0K8
Tel: (705) 443-8484
Toll-Free: 1-877-988-8484
www.scandinave.com



For the most up-to-date information and offers visit our website - www.scandinave.com

The award-winning Scandinave Spa Blue Mountain offers access to the Scandinavian Baths and Registered Massage treatments. Situated in a natural forest, minutes from downtown Collingwood and Blue Mountain Resort, the Spa is open year-round from 9 am - 9 pm. Guests must be 18+ years old. Guests are encouraged to enjoy the serenity of the outdoor environment, regardless of the weather. The ambience at the spa is quiet tranquility, where one can unwind to gentle music and still hear the singing of birds surrounding the property. Cell phones and cameras are not permitted for the privacy of our Guests.

The renowned Scandinavian Hydrotherapy Baths experience begins as the body is warmed in a hot bath, sauna or steam room. This opens the pores and begins the detoxifying process. Then, a plunge into cold water (or snow!) rinses the toxins from the skin and closes the pores. The plunge also increases the heart rate and enhances blood circulation throughout the body. The third stage, that of relaxation, helps re-establish equilibrium as systems return to a normal resting state. With the repetition of these three sequences, the body detoxifies, the mind calms, and the spirit soars.

Reserve and relax at Scandinave Spa
Reservations are required for Massage treatments. For guaranteed access to the Scandinave Baths, reservations are required. Bookings can be made online or by phone. Guests who do not have reservations for the Baths can walk-up to the spa to check availability. If the spa is at capacity, guests may be subject to a wait list. The wait list can also be joined online here.

The health and well-being of our guests, staff & community are our top priority. For the most current information related to health & safety, please visit our website here.
Follow-On Social:






Book online now
Same Day Bath Access