There is so much to see in Simcoe County all within a short drive of Barrie: lush rolling farmland, dramatic vistas, quaint villages, historic sites and two fabulous shorelines: Georgian Bay and Lake Simcoe.


View Barrie Motorcycle Tour in a larger map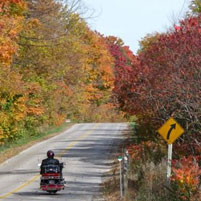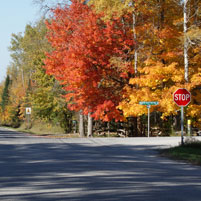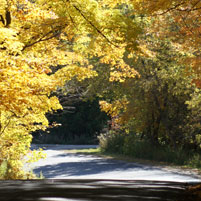 MOTORCYCLE TOUR: Georgian Bay Beaches, Penetanguishene Road
It would be impossible to include everything in one day's drive; however, here is a suggested route that takes in samples of many of these attractions.
• Start either from Downtown Barrie or Highway 400 by heading north on Bayfield Street. (Highway 27)
• This route will take you through Barrie's north-end shopping district with its many plazas and restaurants and three shopping malls.
• Once you are past the stores, you will find yourself in the beautiful forested countryside on the outskirts of the city
• A few km down the road, you will see the signs for Highway 26 veering off to the left. Take Highway 26 west past the Simcoe County Museum (with its many restored pioneer and Victorian artifacts) to its junction with Simcoe County Road 28. About 2 km north on Highway 28, turn right at the lights at Horseshoe Valley Road for less than a km and turn left at Simcoe Road 29. Don't miss this turn, or you'll be on another drive altogether!
• Head straight up this scenic road about 25 km until you can't go any further, and you will have arrived at the vast Georgian Bay shoreline with its beautiful and fragile sand dune system and the longest freshwater beach in the world! All the beaches along here have lovely white sand, fresh, clear water and gentle sandy bottom entries – perfect for swimming!
• Around the bay to the left (south) are the famous bustling beaches of Wasaga. We will head north about 10 km along Tiny Beaches Road to take the quieter route alongside traditional family cottages, and new mansion-style retreats to the beachside amenities of Balm Beach.
• Parking is scarce along here until you get to the boat launch at Jackson's Park at Ossossane Beach. There are washrooms here and a fine view of Georgian Bay to the south.
• Return to Tiny Beaches Road and continue winding your way along the waterfront to the north.
• As you approach the Balm Beach cottage community, the road will split in two, with the northbound branch being on the right. Follow this branch until you get to the stop sign at Balm Beach Road.
• Turn left at Balm Beach Road and follow this around to the municipal beach of soft white sand. There are restaurants, snack bars and variety stores, as well as change and washrooms. If you just can't resist a quick dip in the clear, refreshing waters of Georgian Bay – go for it! At the very least, take off your boots and sink your toes into the sand – and yes, this sand is perfect for elaborate sandcastles.
• Return to Balm Beach Road and head inland (east) towards Midland.
• You will pass the intriguing Castle Village on the right. This is more than just a children's playground. Down below (in the dungeon), there is a museum of Medieval armament, mythological and legendary swords and other implements of destruction, chain mail, early guns, flintlocks, etc.
• Turn right at the lights on Highway 93 for the scenic drive back to Barrie.
• You will notice the turn-off to Highway 12 a few km south on the left. This is the way to the fully reconstructed 17th-century fort of Sainte Marie among the Hurons, an incredible historic site. Martyr's Shrine and Wye Marsh Wildlife centre are also located a short distance down Highway 12. All are fascinating and worth a visit when you have some time to dedicate to these fine attractions.
• Highway 93 / Penetanguishene Road is a well-maintained provincial highway winding its way south through some of the prettiest scenery around. Drop in at any of the quaint antique shops along the way.
• After you pass the Highway 400 turnoff, you will approach the hamlet of Craighurst at Horseshoe Valley Road. There is a luscious chocolate factory here, "Chelsey Chocolates" as well as several art studios and gift shops. There is "Loobies" diner for a quick bite and Abbots of Craighurst for fine dining. The drive down Horseshoe Valley Road to the left (east) is one of Central Ontario's most spectacular fall colour driving routes. It takes you past the luxurious Horseshoe Valley Resort with its winter ski hills and summer golf all nestled into the natural splendour of the Copeland Forest. Plan your next scenic tour to take in this route.
• For now, continue south on Penetanguishene Road past farmer's markets and rolling rural countryside right into Downtown Barrie.
• Penetanguishene Road merges with Blake Street, which merges with Dunlop Street and brings you to the street light at Mulcaster Street in Downtown Barrie. The parking lot down by the waterfront is an excellent place to park your bike and end your tour.
• Wind down your afternoon with a cool drink at any of the inviting patios overlooking the lake and finish it with a leisurely stroll along the waterfront trails around the bay. After a rest back at your hotel, you'll be ready for an amazing evening of great dining and fun in one of Barrie's entertainment districts.
Enjoy your visit with us in Barrie!