Try one of our mouth-watering dining options throughout Barrie. With so many choices, you can be sure to satisfy all of your cravings.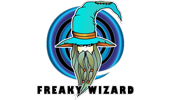 Freaky Wizard Coffee House & Pop Culture Emporium
VISIT OUR WEBSITE - www.freakywizard.com

Freaky Wizard helps people power up their inner wizard by providing an immersive magical atmosphere for students, families and professionals, to share a love of geek culture, while enjoying locally sourced coffee, teas and confections. We are a destination business, but we also cater to our regular customers. We serve the finest, fair-trade, locally roasted coffee; sustainable teas; locally produced snacks and treats; and other magical confections that bring comfort, joy and inner strength to our wizardly customers. We also sell products that feed the appetite of geeks and pop culture fans: Harry Potter/Wizard stuff (wands, potions, costumes, mugs, journal etc.), vintage and collectible toys like Star Wars, 80's and 90's brands, posters, LEGO sets and LEGO minifigures, Funko Pops, handmade products, cosplay and costume items, comics, books and collector cards.
The café-toy store is a unique mixture of an immersive experience that you can only find at Disneyland or Universal Studios, a toy store, and coffee shop. It is a place to hang out, to study, to dream, and to play (board games, trivia, puzzles, or bring your own). It is a welcoming environment to all peoples - especially families, children, new immigrants, international students, college kids, and geeks of all types. It's the perfect place to book your birthday party or special occasion.