Barrie is where you will find everything you need for an amazing shopping experience.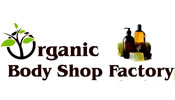 Organic Body Shop Natural Skincare
VISIT OUR WEBSITE - www.organicbodyshop.ca
Founded in 2005, The Organic Body Shop and has been providing quality personal care products for our wholesale and retail customers. We are located just 10 minutes north of Barrie, Ontario, and boast a product range of more than 400 Plant Driven products that are created in our factory by our very own Organic Chemist. It's time to think about what you are putting on your skin….do you know what is in that product? Does it have Paraben (formaldehyde) or a man-made synthetic ingredients and scents that have no aroma therapy benefits? Were the ingredients tested on animals before they went into the bottle?
Is the pretty packaging worth more than the product inside? Does this stuff matter to you?
The difference between Organic Products and other products is that no synthetic ingredients nor animal ingredients are used to create our amazing and beneficial product line. Oils are distilled and heat pressed at our lab. An organic preservative is added that provides a shelf life of 3 years' and most of the plants used are grown on the 5 acres situated behind our factory.
All products are paraben free… Plant driven products ... No animal testing… No animal by products!
We love what we do work hard to ensure quality and good manufacturing practices (GMP). We are also highly creative and innovative, so feel free to offer your ideas or contact us for questions.
Lots of Spa products available! Pedicure, Manicure and Facial Care. Wholesale prices for all beauty suppliers.
Located in the beautiful countryside of Oro Medonte - just a 10-minute drive from Barrie Ontario. North up to 951 Hwy 93. Just off the 400 north to Hwy 11 split and first exit is 93 Head North to 951
Follow us on Facebook and see what fresh product batches are being made.
https://www.facebook.com/organicbodyshop.ca
We also offer private label and wholesale on our
www.organicbodyshopfactory.ca
The women at Organic Body Shop factory want to thank you for stopping by and keeping us in business.