Home

>

Do

>

Treetop Trekking Horseshoe Inc.
Explore the great outdoors from up above! Excitement, outdoor fun and adventures await you at these uniquely wonderful area aerial attractions.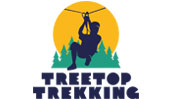 Treetop Trekking Horseshoe Inc.
VISIT OUR WEBSITE - www.treetoptrekking.com

UNLEASH THE ADVENTURER INSIDE!



Treetop Trekking Barrie is Ontario's original zip line and aerial game park, and is a perfect activity for families, groups of friends, school groups, corporate groups, and anyone else looking for a fun day outside. Located at Horseshoe Resort outside of Barrie, spend a fun filled day climbing and zipping from tree to tree.
The most popular attraction is the parks Zip Line Aerial Game Trek.
In addition to Zipline & Aerial Game Treks for age 9 to adult, Treetop Trekking Barrie also has kid specific Discovery Courses starting at age 5, as well as team building programs for groups.

Treetop Trekking Barrie now has their Discovery Course, a brand-new adventure park course for people with special needs and for young children, allowing all to explore the forest in a whole new way! The Discovery Course uses a new continuous lifeline system and ranges in height from 2 to 4 feet off the ground making it great for people who are not able to operate the carabiners or who are nervous at heights.

Reservations Required: 1-888-733-8679 or online
Check us out on Facebook