Barrie is home to some of Central Ontario's most incredible trails for the whole family to enjoy. Be sure to pick up your copy of the Barrie & Area Trails Guide or click here to view it online to make sure you don't miss out on a great outdoor adventure!
Sunnidale Park
Eastside of Sunnidale Road, between Letitia Street & Cundles Road West
Description:
This 48.5-acre park is located in Barrie's north-west corner and was originally home to the Barrie Country Club. Today the park features playground equipment, the Dorian Parker Community Centre, the Barrie Arboretum, parking, and great trails.
Directions:
Exit Hwy 400 at Dunlop Street East, turn left onto Anne Street, follow Anne Street to Cundles Road and turn right (or Bayfield Street to Cundles Road and turn left) follow a few minutes down the road to Sunnidale Road and the park.
Waterfront Trail Along Kempenfelt Bay
Description
: Approximately 6.7 km of mostly flat, paved trail. Access anywhere along Barrie's Lakefront parks, with parking at the Southshore Community Centre and other lots along Lakeshore Drive.
Ardagh Bluffs Description:
17 km of trails over 524 acres, most of which are zoned Environmentally Protected (EP). The trail system is used for walking and hiking; use of motorized vehicles within the Bluffs is not permitted. Trails run through the wooded area of County Rd. 27 and Ardagh Road in the south-west end of Barrie.
Directions:
Exit Hwy 400 at Essa Road, travel southwest to Mapleton Avenue, right on Mapleton, park at The Peggy Hill Community Centre and access the trail across the street.
Nine Mile Portage Heritage Trail
Description:
A multi-use recreational trail running between Memorial Square, on Barrie's downtown waterfront, to the Fort Willow Heritage Site (see description below) in Springwater Township. The trail follows as closely as possible, the original historic portage route (much of which is now on private land and closed to the public). The trail is approximately 5 km long within the City of Barrie and 10 km in the Township of Springwater and follows a variety of terrain types, including sidewalks, road allowances and earthen footpaths through natural areas. Some portions include steep inclines.
Click here
for Map.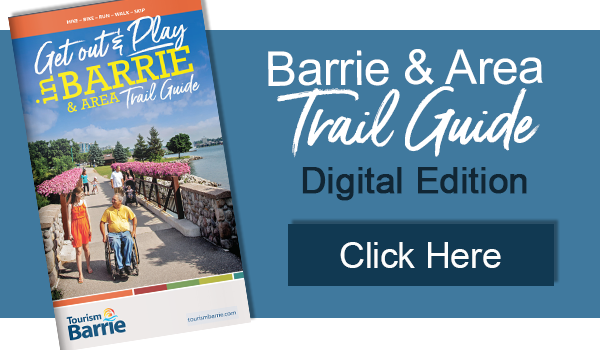 Featured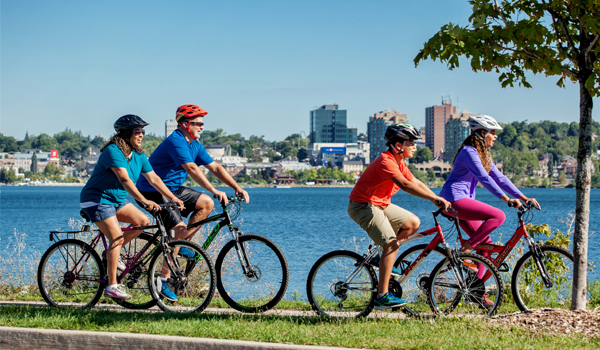 Trail Maps
Download your trail maps and get out and rediscover Barrie!
Read More >
Trails in the Greater Barrie Area
For great Simcoe County trail maps,
click here
.
Copeland Forest Trails (Ministry of Natural Resources)
2289 Nursery Road Midhurst
Description:
Approximately 2km to 13km. Trails are ideal for the beginner cyclist and there are a variety of trails so you can tailor a loop just for you. No motorized vehicles permitted
Directions:
Parking available off of Ingram Road. Follow Hwy 400 North to Hwy 93. South on Hwy 93 towards Craighurst. Follow the signs.
Fort Willow
Portage Trail, Springwater Township, 705-424-1479
Web:
www.nvca.on.ca
Description:
Palisade walls line the perimeter of this historic site that served as a supply depot during the War of 1812. Interpretative signs will guide you through the site, past markings of barracks and blacksmith shops, and a special garden that attracts Monarch butterflies. The Nine Mile Portage Heritage Trail, the Ganaraska, North Simcoe Rail and Trans Canada Trail all connect to Fort Willow, making it a hiker's paradise.
Directions:
For road access, take Hwy. 90 to Grenfel Road. Travel 5 km north. An alternate route is George Johnston Road. Off either Hwy. 90 or Hwy 26, then go west on Portage Trail for 3 km. The route is well signed. You can park there, and at the back, descend a set of steps to reach the trail.
Ganaraska Trail
Web:
www.ganaraska-hiking-trail.ca
Description:
The Barrie section starts at the Sugarbush Estates near Horseshoe Valley Road, about 10 km east of Hwy 400. The trail passes through the rolling moraine hills of Oro-Medonte Township, past Horseshoe Resort, crosses Hwy 400 west of Craighurst, Hwy 26 west of Midhurst, and heads west, through the Minesing Swamp to Hwy 90, where it ends after 50 km. The terrain is varied and is suitable for novices. There are the rolling sandhills, the scenic Willow Creek Valley near Midhurst, forests, quiet country paths, the historic Willow Creek depot and much more. The section going through the Minesing Swamp can be very wet in spots early in the spring. The actual head of the trail is in Port Hope on the north shore of Lake Ontario and after more than 400 km connects with the Bruce Trail near Glen Huron. In Port Hope, the Ganaraska Hiking Trail connects with the Lake Ontario Waterfront Trail. In the Ganaraska Forest, the trail crosses the Oak Ridges Trail. In the hills of Oro-Medonte Township, between Barrie and Orillia, a branch trail veers off to Midland and then turns south, through Wasaga Beach, to rejoin the main trail just east of Glen Huron.
Directions:
Follow Hwy 400 North and exit at Horseshoe Valley Road. Travel approx. 10 km east.
Minesing Wetlands
Web:
www.nvca.on.ca
705-424-1479
Description:
Open year-round but subject to seasonal conditions, this unique 6,000 hectare wilderness is located north-west of Barrie and can be partially accessed via foot or canoe. The undisturbed nature and habitat diversity are of prime importance to birds for spring migration, nesting, staging for fall migration and feeding grounds. This wetland plays host to great numbers of waterfowl including, Buffleheads, Scaups, Gadwalls, Black and Ring Neck Ducks. Flocks of Canada Geese and pairs of Whistling Swans are common. On the outer edges where the forest meets farmland, you may be rewarded by observing Sand Hill Cranes stopping over on their migration to Western Canada. A diverse selection of plants and animals within a range of habitats, including Boreal and Carolinian forests make this wetland of extreme interest to many. The 1 km Meadow Mouse Trail begins at the info kiosk on George Johnston Road, located 8 km north of Hwy. 90, and offers views of the old Lake Algonquin shoreline that towers above and forms the south-eastern boundary of the wetland. The short, well-groomed route also traverses a large expanse of marsh habitat.
Mayers Marsh
is part of the Minesing Wetlands. The wetland area is responsible for the important job of filtering and cleaning our water. Bird watching is a good activity here. To reach this area specifically, follow the North Simcoe Rail Trail from Hwy 26 (parking available) or from Vespra Valley Road, which runs south from Hwy 26 to Snow Valley Road, ending at Snow Valley Ski Resort.
Directions:
For hiking and skiing, there are several access points, including George Johnston Rd, 8 km north or Hwy. 90. Access for the popular Nottawasaga River Route is located at the former NVCA office on Hwy. 90, just east of Angus. Another less travelled but scenic route for paddling is the Mad River, with access at Simcoe Road 10, just west of Angus.
North Simcoe Rail Trail

Website
Description
: This trail follows the route of the North Simcoe Railway, which was built in 1878 and primarily served the lumber business on Georgian Bay. The trail offers stunning views over the Minesing Swamp and Mayer's Marsh.
Directions:
West on County Road 90 to Pinegrove Road. Follow north about 3 km to the trail. Park along the road.
Tiffin Centre

8195 8th Line, Utopia, 4km south of Hwy 90, (705) 424-1479
Website
Description:
Follow 17 km of looped, return trails as they meander through almost 500 acres of wetlands, forests, open meadows, ancient lake beds and glacial shorelines. Permitted activities include hiking, cycling, skiing and snowshoeing. Learn about various trees and plants from interpretative signage installed along trail routes. The Tiffin Centre is home to the Nottawasaga Valley Conservation Authority administration offices, an environmental education program and the annual Spring Tonic Maple Syrup Festival.
Directions
: Exit Hwy 400 at Dunlop St. West, West on Hwy 90, S on 8th Line for 4 km.
Oro-Medonte Rail Trail

Website
Description:
28 km trail following an abandoned CN rail line. Running parallel to the northwest shore of Lake Simcoe, passing through the communities of Shanty Bay, Oro-Medonte and Hawkestone.
Directions:
Shanty Bay Road to Line 1 South. Follow to the parking lot.