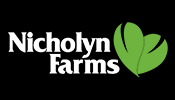 Nicholyn Farms
VISIT OUR WEBSITE - www.nicholyn.com

Nicholyn Farms, your year round choice for locally produced, organic and traditionally raised foods. Do you know where your food comes from? We do. The diversity on your plate can and should come from local producers.
By supporting farm families and local agriculture, you are helping to sustain our food economy, preserve our farm land and keep dollars in our community.
Your local farmers thank you! In cooperation with amazing local farmers, we are able to provide for you the highest quality of food. We are passionate about providing every family with the opportunity to maintain a healthy diet.
Our on-site bakery and certified kitchen is a very busy place. Using local ingredients our homemade bread, buns and sweets and treats, preserves, prepared dinners, and gluten free products are developed with you in mind.
Enjoy the serenity of the countryside with your family and friends as you make an easy trek to scenic Nicholyn farms, just 10 minutes north of Barrie.