Wander through Downtown Barrie to find a diverse selection of restaurants and eateries, from pub fare to fine dining.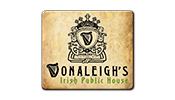 Donaleigh's Irish Public House
VISIT OUR WEBSITE - www.donaleighs.com

Welcome to Donaleigh's: Located just east of Barrie's historic Five Corners. This landmark property has undergone extensive renovation to bring you Barrie's premiere Irish Public House. Whether it is a stool at the bar, a table in the library, a cozy booth or a spot on one of our two awesome new patios you will find a place that is just right for you and your friends.
Serving authentic Irish ales, lagers and stouts along with quality pub fare prepared from fresh ingredients by our amazing kitchen staff and served promptly with a smile from our friendly staff. Donaleighs Irish Public House carries on the fine Irish tradition of great food, quality ales, and genuine hospitality.