Try one of our mouth-watering dining options throughout Barrie. With so many choices, you can be sure to satisfy all of your cravings.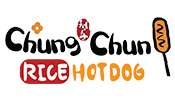 Chungchun Rice Dog
VISIT OUR WEBSITE - www.chungchun.com
The Best Korean Style Hot Dogs.


Chungchun Rice Dog is a massive Korean chain that specializes in one thing: Korean-style hotdogs. Founded in 2017, Chungchun Rice Dog opened its first location in Seoul, South Korea. Since then, it has opened more than 200 locations across the world.
Unlike traditional flour-based batter, we add flour made from glutenous rice, which makes our hotdogs deliciously soft and chewy. The batter is made fresh every morning. The batter-dipped sticks are coated with optional toppings from diced potatoes to breadcrumbs and freshly fried on the spot.