Try one of our mouth-watering dining options throughout Barrie. With so many choices, you can be sure to satisfy all of your cravings.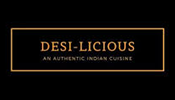 DesiLicious Barrie
VISIT OUR WEBSITE - www.desiliciousbarrie.ca
At DesiLicious we offer meals of excellent quality and invite you to try our delicious food.
The key to our success is simple: providing quality, consistent food that taste great every single time. We pride ourselves on serving our customers delicious genuine dishes like: Indian
Eat delicious food. Grab a drink. But most of all, relax!