Try one of our mouth-watering dining options throughout Barrie. With so many choices, you can be sure to satisfy all of your cravings.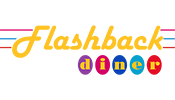 Flashback Diner
VISIT OUR WEBSITE - www.flashbackdiner.ca


Flashback is Barrie's authentic retro diner with incredible service and impeccable food! We have always been known for our friendly service and 'homestyle' charm. We offer large portions of home-cooked breakfasts and lunches at very reasonable prices.

Great Service, Great Food and Great Value! That's what brings our customers back time and time again.