Try one of our mouth-watering dining options throughout Barrie. With so many choices, you can be sure to satisfy all of your cravings.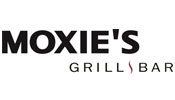 Moxie's Grill & Bar
VISIT OUR WEBSITE - www.moxies.com


Our restaurants and menus are inspired by the communities we are part of; from the team we hire to the food we make, it's an expression of the neighbourhoods we inhabit across this country.
Moxie's Barrie is a superb, late-night dining restaurant on Bayfield Street with easy access from Highway 400. Come enjoy a wide-array of pastas, burgers and steaks with new menu adds by Executive Chef Brandon Thordarson! Whether it's a tasty Honey Garlic Sirloin or Ginger Sesame Tuna appetizers – we offer a global and delectable selection for any occasion.
Night on the town? Join Moxie's patio scene for night-time drink specials. From slushie Bellinis to ice cold Gin & Tonics – we offer a delicious blend of cocktails, wine and variety of beers to choose from.