Try one of our mouth-watering dining options throughout Barrie. With so many choices, you can be sure to satisfy all of your cravings.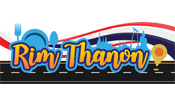 Rim Thanon Thai Kitchen
VISIT OUR WEBSITE - www.rimthanon.ca


Rim Thanon Thai Kitchen is one of the best-rated Thai restaurants in Barrie, Ontario. Owned and operated by Thai people, we serve an array of Thai street-style dishes we Thai people already know and love, such as Pad Kaprao, Pad Kee Mao, Pad See Ewe, Thai Boat Noodle Soup, and so on.

If you're in Barrie craving authentic Thai food, you do not need to drive all the way to GTA for some legitimate Thai food anymore. We are here to offer Thai dishes that people of Barrie may not have experienced before. We are open from 11 am to 9 pm on Sundays to Thursdays (Closed on Tuesday), and 11 am to 10 pm on Fridays and Saturdays.

For more information, follow us on Facebook and Instagram @rimthanon.thai or head to www.rimthanon.ca.