One of Barrie's biggest features is all of its fantastic restaurants. Perhaps your toughest decision will be which restaurant to try out first! Just south of Essa Road, Barrie's south end offers a variety of casual, family friendly dining experiences.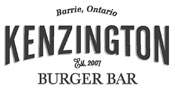 Kenzington Burger Bar (Bryne Dr.)
VISIT OUR WEBSITE - www.kenzington.ca
The Kenzington Burger Bar offers the finest fare for all burger lovers in Simcoe County! For the last 5 years, we've been cranking out some of the most creative, mouth-watering burgers on this side of Toronto. Whether you're in for the live music, or just looking for the best burger you've ever eaten in your life, KBB has all of our ducks in a row to satisfy your most intimate culinary desires!
Be sure to ask your server about the "Kitchen Sink Burger" and challenge yourself to ultimate deliciousness.