One of Barrie's biggest features is all of its fantastic restaurants. Perhaps your toughest decision will be which restaurant to try out first! Just south of Essa Road, Barrie's south end offers a variety of casual, family friendly dining experiences.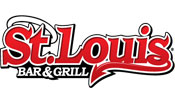 St. Louis Bar & Grill - Veterans Drive
VISIT OUR WEBSITE - www.stlouiswings.com

St. Louis Bar & Grill is a 100% Canadian franchise dedicated to excellent guest service, a fun sports atmosphere, active community involvement, and devilishly good food and drink! We pride ourselves on being your number one chicken wing destination and take great pride in the relationships that we build with our guests every day.
The consistent delivery of a superior wing and rib product in a fun and friendly neighborhood bar and grill setting at competitive prices has and continues to be the cornerstone of the St. Louis Bar and Grill model. In fact, despite the growth of the St. Louis Bar and Grill franchise chain over the years, we've remained dedicated and true to the core business principles of the first ever St. Louis Bar and Grill location.
With numerous locations located in the Barrie area, we are a proud member of the Barrie community and look forward to meeting new guests as soon as they walk through our doors. So whether you're craving the delicious, mouth watering items on our menu or you just feel like enjoying some great company in a welcoming environment with a fun atmosphere, we'll look forward to seeing you at St. Louis Bar & Grill!