Barrie is where you will find everything you need for an amazing shopping experience.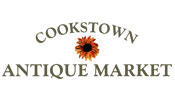 Cookstown Antique Market
VISIT OUR WEBSITE - www.cookstownantiquemarket.com
The century old barn that houses Cookstown Antique Market is situated on four acres in the beautiful Simcoe County countryside. With 35 dealers in our collective, The Cookstown Antique Market is truly a 6,000 square foot paradise for decorators, home stagers and nostalgia, glassware, jewellery, china, memorabilia and collectibles in infinite variety. The Cookstown Antique Market is the perfect venue for a change of pace from the bustle of city life. On fine weather days bring a picnic basket and relax under a tree. The Cookstown Antique market is fully air conditioned.
Come Acquaint yourself with the Best Kept Secret North of Toronto!
Antique Market: open 362 days per year, 10am-5:30pm. Only closed on Christmas Day, Boxing Day and New Years Day.
Exit Hwy 400 at exit 75 west to County Road 27 turn right and head north to the "Barn" located beside the Cookstown school on the west side.