Barrie is where you will find everything you need for an amazing shopping experience.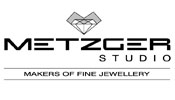 Metzger Studio
VISIT OUR WEBSITE - www.metzgerstudio.com
Metzger Studio features Award Winning Jewellers and Goldsmiths. Specializing in exclusive bridal designs, custom made fine jewellery, remounting, jewellery repairs and appraisals. We also feature the unique and wonderful work of many other local jewellery artists. Handmade in sterling silver with the latest techniques and styles!
Metzger's Jewellery is somewhere between cutting edge and classic, innovative yet timeless.
With a significant 30 years experience, brother and sister team, Michael Metzger and Beverly Metzger-Noble, both Designers and Goldsmiths, have been creating custom jewellery and providing unparalleled quality and service.
Visit our beautiful studio, conveniently located across from Memorial Square in the heart of Downtown Barrie and bring home something fabulous!