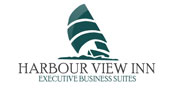 Harbour View Inn
VISIT OUR WEBSITE - www.harbourviewinn.ca
Downtown Executive Suite Comfort.
Where 1885 history meets 21st century Suite comfort.
Our Inn is a reconstructed heritage building with a pleasing blend of a historic charm combined with all the modern technology required by today's corporate world.
Kitchenettes in each suite and our proximity to the waterfront and the city centre, are just a few features which make us an ideal place for short or long - term visitors.
Please enjoy our:
• Elegant heritage hotel, beautiful harbour view
• State of the art voice mail system
• High speed internet service
• Fax copy service
• Jacuzzi available
• Hand carved antique furnishing
• Victorian veranda
• Walking distance to downtown restaurants, shopping, trails along lake, park and harbour
• Air conditioning, hair dryer, kitchenettes, microwave, refrigerator, toaster, coffee maker
• Cable TV, VCR
• Executive workstation
• Sofa beds, wing chairs
• Luxury duvets and window dressings
• Pillow top mattresses
• Garden patio
Office Hours: Monday-Friday 9:00am-5:00pm