Tourism Barrie Board of Directors 2022-2023


Tourism Barrie is governed by an elected eleven-member Board of Directors, which primary duty is to steer Tourism Barrie towards a sustainable future by adopting sound, ethical, and legal governance and financial management policies. In addition, providing leadership and direction about the organization's future direction and advancing Tourism Barrie's responsibilities in destination marketing and management to grow the visitor economy.



President - Denise Sindle-Tucker
Owner of Olive Oil Co - Barrie, Newmarket, and Midland

Denise has been in the Barrie area since 2005. She is a strategic business development professional with over 25 years of experience in media - print, consumer events, sales & marketing, and multi-media advertising

Sector Representative: Retail and Downtown Barrie
Elected 2018
Elected Term Ending 2024

Vice President - Jonathan Palmer
Marketing Director at Snow Valley Ski Resort

Jonathan brings over sixteen years of skills and experience as the Guest Services Manager for Snow Valley Ski Resort. Jonathan brings his years of knowledge and experience in the Hospitality Industry to advise Tourism Barrie in furthering tourism through the use of traditional and social media channels and building Barrie into a travel destination.

Sector Representative: Attractions and Sport Tourism
Elected 2022
Elected Term Ending 2028


Treasurer/Secretary - Mary Lewis
General Manager of the Holiday Inn Express & Suites Barrie

Mary brings over 25 years of knowledge and experience in the Hotel & Hospitality Industry to advise Tourism Barrie in furthering tourism and building Barrie into a travel destination.

Sector Representative: Accommodation
Elected 2022
Elected Term Ending 2028


2nd Vice President - Cheryl Oram
Director of Sales & Marketing for the Allure Hotel & Conference Centre.

Cheryl brings over 18 years of experience within the hotel and hospitality industry. Cheryl brings her knowledge and experiences in Group Sales, Corporate Travel, and Sport Tourism to her role on the Board of Directors.

Sector Representative: Accommodation
Elected 2019
Elected Term Ending 2025


Past President - Louise Jackson
Owner of Louise Jackson Media

Louise is a multifaceted professional with executive-level experience in festival site management, revenue generation, analytics, public speaking, marketing, public relations, financial management, entertainment programming, and tourism management. Louise represents multiple tourism organizations across the province. Louise is also a director on the Board of Attractions Ontario and Festivals and Events Ontario.

Sector Representative: Attractions
Elected 2016
Elected Term Ending 2023



Todd Jenereaux - is a CPA, CA, who has spent much of his career in management, finance, and business development. Since 2014, Todd has been Executive Vice President of Burl's Creek Event Grounds, Republic Live, and Boots and Hearts Limited Partnership, who collectively have produced diverse events, including Boots and Hearts, Big Sky, WayHome, and Canada Rocks with the Rolling Stones, among others. Todd believes in the power of large-scale events for their economic, cultural, and experiential benefits to supplement the continued growth of tourism in Barrie and throughout Simcoe County.

Sector Representative: Attraction/Festival & Events
Elected 2020
Elected Term Ending 2026


Candice Moreau - is the Coordinator of Marketing and Media Relations, Huronia Historical Parks and Sainte-Marie among the Hurons. Candice Moreau is an experienced communication, issues management, marketing and cultural relations executive with over 13 years of experience working in the tourism industry. Candice has an in-depth knowledge of provincial processes and communication guidelines through her current position with the Ministry of Tourism, Culture and Sport and drives strategies which support and advocate for tourism and heritage in the region.

Candice is committed to driving tourism and economic impact to the region and hopes to help continue to make Barrie a premier destination in Ontario, filled with authentic and memorable experiences.

Sector Representative: Attractions and Government Relations
Elected 2022
Elected Term Ending 2028


Jim Payetta - is an entrepreneur and business executive with over thirty-five years of experience in the advertising and marketing, media, entertainment, and investment industries.

In 2007, Jim purchased Barrie Speedway, and in 2008 it became part of the company that owns the Barrie Colts OHL Hockey Team. Jim became a partner in the Horsepower Sports and Entertainment Group Inc., working with Howie Campbell to make the OHL Barrie Colts one of the most respected OHL Franchises.

Sector Representative: Sport Tourism and Entertainment
Elected 2020
Elected Term Ending 2026


Sheilagh Rennie - is the Marketing Manager at Tanger Outlets Cookstown and brings 15 years of experience in marketing, sales, event planning, and retail. As a resident of Barrie, Sheilagh is passionate about her community and is excited to work with Tourism Barrie and its partners to help drive tourism to the area.

Sector Representative: Retail and Marketing
Elected 2022
Elected Term Ending 2028



Michael Valiant - is a vegan chef and the owner of Valiant's Eatery, Barrie's premiere plant-based restaurant. Michael is passionate about growing small businesses and has launched ten businesses, including seven restaurants, since 2014. His specialties include creating customer-centred products, building, and growing online communities, & customer marketing and communications. Michael brings a wealth of experience and knowledge in owning a restaurant in Downtown Barrie and integrating culinary experiences into product development for tourism. Valiant's Eatery is a leader in environmental sustainability.

Sector Representative: Restaurant, Food & Beverage
Elected 2019
Elected Term Ending 2025



Alan E. Young - is the President and Co-Founder of Puzzle Partner Ltd, a strategic and tactical marketing and public relations firm that specializes in helping travel and hotel technology companies achieve winning performance and dramatic growth. Alan is the past Chair of the Board of Directors of the Open Travel Alliance, a global hospitality/travel industry technology standards association. Alan has also been very involved with other industry organizations, most notably AHLA, HEDNA and HTNG. Alan also sits on the Advisory board of several innovative travel technology firms, helping them develop their sales, branding, and marketing strategies in order that they gain a very quick foothold in an extremely complex and competitive industry.

Sector Representative: Marketing, Technology, Hospitality, and Accommodations
Elected 2022
Elected Term Ending 2028



Featured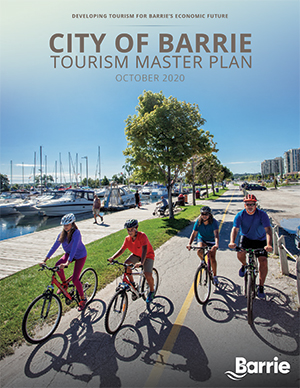 Tourism Master Plan
The City of Barrie has approved in principle the City of Barrie's Tourism Master Plan in December 2020.
Read More >
Featured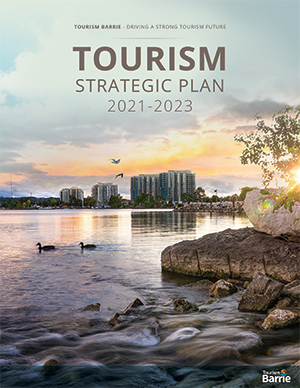 Tourism Strategic Plan
Tourism Barrie's Three-year Strategic Plan encompasses strategies and recommendations to market and manage the destination and integrate tourism into the community's social, economic and environmental aspirations.

Read More >
On behalf of the tourism industry, we would like to thank the Board of Directors for volunteering their time and for their leadership in enhancing the tourism industry in Barrie 7 Area. Please feel free to reach out to any Board of Director with your ideas or suggestions on furthering Tourism Barrie and growing the visitor economy.